Beskrivelse
NewTek TriCaster TC410 Plus features
TriCaster® TC410 Plus is an integrated video production system designed to create multi-platform productions live and on-demand. Your shows will be polished, engaging to viewers through social and second-screen experiences, deliver revenue opportunities, and extend your brand. TriCaster 410 Plus is scaled for smaller racks and mobile units and gives you an end-to-end IP workflow from acquisition to delivery.
Maximum Video Production. Minimal Complexity.
TriCaster TC410 Plus enables producers to create high-end video smoother, faster, and easier. With only 2RU of rack space in a flight-pack or tight space, you gain the freedom of movement that's just not possible with racks of individual components pieced together. With an all-in-one design, do-it-yourself setup, and hundreds of entry-level and advanced production capabilities, you can be on your way to building captivating productions from anywhere simply and efficiently.
Reach Diverse Viewers
Live stream to multiple destinations simultaneously, including Facebook Live, Microsoft Azure, Periscope, Twitch, Ustream, YouTube Live, and more
Share media to multiple user accounts on your favorite social networks, like Facebook, Imgur, LinkedIn, Twitter, Vimeo, YouTube, and more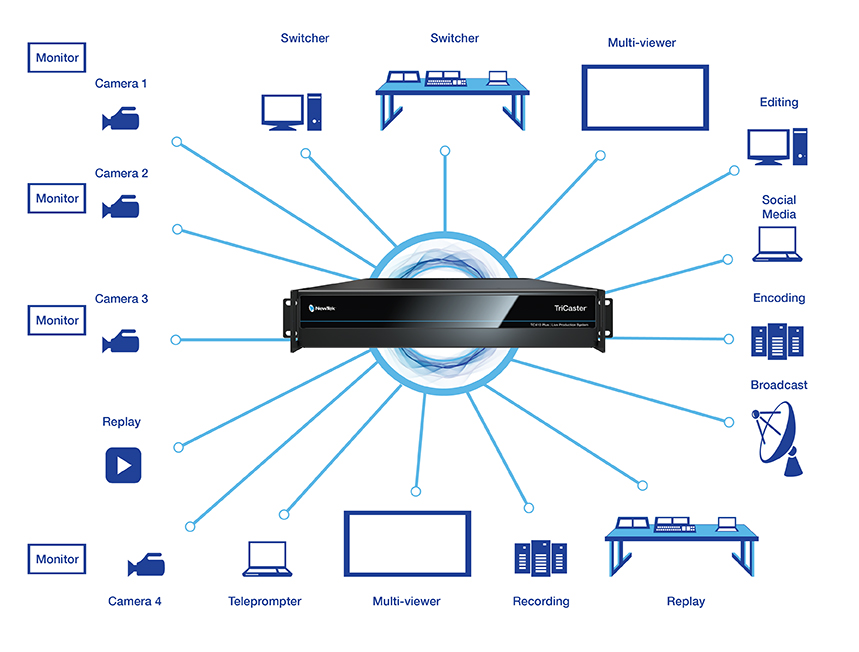 Customize Workflows
Connect cameras directly or expand your available live sources over IP
Flex your workspace and control to suit a single operator or a small team
Output to one or multiple destinations simultaneously—on site or across the network
Automate Tasks
Record common moves with macros, and expand your production possibilities while reducing any on-air mistakes.
Streamline sequences with a single action when they're too complicated to execute live. Use MIDI control, on-camera hotspots, and PTZ cameras to make smaller productions look like larger shows.