Beskrivelse
Blackmagic Design DaVinci Resolve Studio
Blackmagic Design DaVinci Resolve Studio spesifikasjoner:
DaVinci Resolve 18.5 introduces dozens of new tools including 4 new AI tools, over 100 feature upgrades and major updates to the Cut page. Editors can now transcribe audio within clips to search for media based on narrative content, or quickly generate subtitles for timelines with the automatic speech to text feature. DaVinci Neural Engine AI can analyze and automatically sort audio clips based on classification, and on the Fairlight page audio tracks can now be grouped for faster mix automation and editing. Colorists can use the new Relight FX to add virtual lighting to a scene. VFX artists can collaborate more easily with support for USD files and work faster with the multi-merge tool.
DaVinci Resolve lets you work faster and at a higher quality because you don't have to learn multiple apps or switch software for different tasks. That means you can work with camera original quality images throughout the entire process. It's like having your own post production studio in a single app! Best of all, by learning DaVinci Resolve, you're learning how to use the exact same tools used by Hollywood professionals!
Hollywood's #1 Post Solution
High end professionals working on feature films and television shows use DaVinci Resolve more than any other solution! That's because it's known for incredible quality and creative tools that are light years beyond the competition. You get DaVinci's Emmy™ award winning image technology with 32‑bit float processing, patented YRGB color science and a massive wide gamut color space for the latest HDR workflows. You also get the legendary quality of Fairlight audio processing for the best sound in the industry! With DaVinci Resolve, you get the same exact tools professional colorists, editors, VFX artists and sound engineers use every day to finish your favorite films and streaming television shows!
What's New in DaVinci Resolve 18
DaVinci Resolve 18 features new image processing for the latest wide gamut HDR, a powerful audio engine, immersive 3D audio workflows and more! Colorists get new HDR grading tools, AI based magic mask and more. Fairlight upgrades mouse and keyboard based edit selection tools along with Fairlight audio core, a high performance audio engine that supports 2,000 tracks on a single system! Editors get a new metadata based "slate" view with bin dividers to organize and find footage faster, zoomed waveforms for audio editing, smart reframing, proxies, live effect previews and more. In addition, effects, titles or transitions created on the Fusion page can be used on the edit and cut pages! Learn More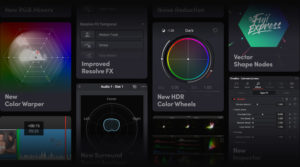 Specifications subject to change without notice. Features description and technical specification from Blackmagic.