Beskrivelse
Marshall CV503-U3 Miniature POV Camera
Marshall CV503-U3 Miniature POV Camera, spesifikasjon:
The Marshall Miniature POV Camera is a straight forward USB3.0 HD camera with interchangeable lenses, software agnostic for universal application, settings adjustable via UVC1.5 and offers simple plug-and-play connectivity to any Mac, PC, Laptop or Linux system.
Marshall CV503-U3 Key features
Software agnostic design provides flexibility to use or switch between soft codecs.
Interchangeable lenses creates customizable field-of-view (comes with 90-degree).
Locking 6 1/2 foot (2m) USB3.0 cable for power and video capture over one cable.
Same broadcast quality as Marshall CV503 cameras up to 1080p60fps video.
Self adaptable resolution and frame-rate provides video stability during operation.
Universal UVC1.5 command and control to adjust settings from any soft codec.
No additional drivers required that change your personal video capture settings.
Locking USB thumb screws lock cable into place and can't be pulled out during use.
Durable design and smooth finish for professional setup and appearance.
Ships with a CVM-5 Monitor/Desktop stand, adaptable to any 1/4″-20 mounts.
Miniature Broadcast Quality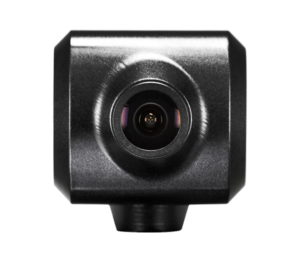 CV503-U3 cameras use same sensor and processors as other Marshall Broadcast ProAV cameras such as CV503, CV506, CV566, CV344, CV346 commonly used in professional broadcast production, sportscast, newscast, television production, and a variety of other professional broadcast quality applications. These cameras have same adjustable broadcast features such as White Balance, Black Levels, Exposure, Gain, Gamma, and many more.
Lens Flexibility
CV503-U3 arrives with a wide angle 2.8mm lens producing a 90° horizontal angle-of-view. Choose from a variety of Focal Length options to achieve a custom AOV (angle-of-view) for your personal huddle space, streaming studio, workspace, live event venue or collaboration area. Interchangeable lenses provides unprecedented customization and personal design control.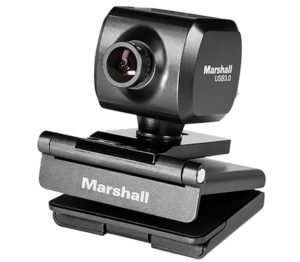 Software Agnostic Security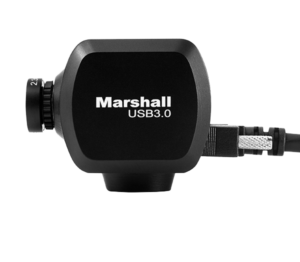 Marshall's USB cameras use capture device drivers already present on your laptop or computer, so no additional drivers necessary that track and change your video capture settings. CV503-U3 is software agnostic, so feel free to use any video conference, streaming, video chat or computer video capture soft codecs on the market today.
Durable and Secure
CV503-U3 is built with same durable body as other Marshall miniature POV cameras with rear connector protection wings on back panel. CV503-U3 ships with a locking six foot USB3.0 cable, so USB cable can't be pulled out during video streaming or collaboration.
Specifications
Ultra-wide 90-degree Angle-of-View (2.8mm) M12 lens comes standard
Interchangeable lenses for custom-designed studios, huddle spaces or meeting rooms
Locking 2-meter (6 1/2 foot) USB 3.0 cable with thumb-screw lock feature
Powered through USB cable with easy plug-and-play connectivity for Mac or PC with no driver downloads required (software agnostic)
UVC 1.5 (USB Video Class) compliant for easy video adjustments via common computer, UCC, and teleconference software platforms
Self-adaptive resolution and framerate to adjust to computer processing power and bandwidth available for reliable operation
Durable design with smooth finish for professional installations requiring custom design and reliable operation
2.5MP 1/2.8″ Progressive scan sensor with 4:2:2 (YCbCr) color space for clear vibrant color images
Universal 1/4″-20 mount for limitless custom design mounting options with horizontal, vertical, and 90-degree flip
Ships with Marshall CVM-5 Monitor/Stand Mount for mounting & operation out of the box
CV503-U3 Specifications
Sensor
Image Sensor
1/2.8″ Progressive CMOS (Approx. 2.5 Megapixel)
Scanning System
16:9 Progressive
Sync. System
Internal
Effective Pixel
1920(H) x 1080(V)
Min. Illumination
0.2 Lux (Day)
Video
USB 3.0
Avalilable resolutions and frame-rates:
1920x1080p @ 60/59.94/50/30/29.97/25/24/23.98fps
1920x1080i @ 60/59.94/50fps
1280x720p @ 60/59.94/50/30/29.97/25/24/23.98fps
Optics
Lens
2.8mm (90°AOV) standard with ability to change M12 lens to custom Focal Length
UVC
Brightness
0 ~ 20 (Default 10)
Contrast
0 ~ 64 (Default 32)
Hue
– 128 ~ 127 (Default 0)
Saturation
0 ~ 20 (Default 15)
Sharpness
0 ~ 20 (Default 10)
Gamma
1 ~ 11 (Default 6)
White Balance
Auto, 0 ~ 255 (Default 128 and Auto)
Backlight Compensation
0 ~ 4 (Default 0)
Gain
0 ~ 12 (Default 0)
Power Line Frequency
50Hz/60Hz (Anti Flicker)
Camera Control
Zoom (Digital)
0 ~ 255 (Default 0)
Focus
–
Exposure
Auto, -13 ~ 3 (Default -7 and Auto)
Aperture (Iris)
Auto, 0 ~ 170 (Default 100 and Auto)
Pan
–
Tilt
–
Roll
–
Low Light Compensation
On/Off
General
Operation Temperature
-10°C ~ 50°C
Power Input
Over USB
Dimensions (W x H x D)
44 x 46.5 x 47.95mm (without lens)
1.73 x 1.83 x 1.89 in. (Without lens)
Weight (Net)
Approx. 0.23 lbs (without lens) / 0.24 lb (with lens)
Hardware Requirements
CPU
i3 or higher
GPU
Core speed of 1500Mhz or higher
RAM
4GB or higher
Operating System Requirements
OS
Windows 7 or higher
macOS
X 10.8 or higher
Endringer i teknisk spesifikasjon kan forekomme. Teknisk spesifikasjon fra leverandør: Marshall
Kontakt oss gjerne for spørsmål om våre produkter. Vi hjelper deg med å velge de rette tekniske løsningene for din bedrifts behov. Du kan kontakte vårt salgsteam direkte ved å sende e-post til sales@mediability.com. 
Se øvrig kontaktinformasjon her.
Abonner på vårt nyhetsbrev og få tilbud og informasjon om nye produkter direkte fra oss. Registrer deg her.